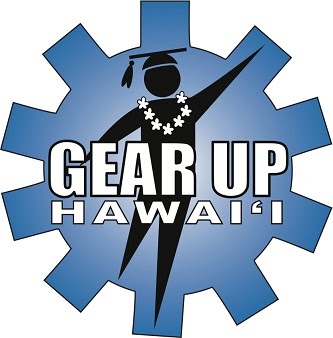 GEAR UP Hawai'i, Hawai'i P-20's college access grant, is utilizing a coordinated, regional "6-16" approach to provide students with developmentally appropriate support to help them successfully complete high school, then enroll and persist in college.
6-16 high schools work with their feeder middle schools and higher education partners (UH campuses) to develop and implement a vertically-aligned, comprehensive 6-16 college and career program that will provide counseling and support for students to explore career interests, develop their Personalized Transition Plans (PTP), engage in work-based learning opportunities, transition successfully through the 6-16 pipeline, and eventually attain their career goals.
To help schools focus on their services, 6-16 middle schools coordinate activities that address college and career aspirations (e.g., a college pledge event, a college visit), while high school partners provide services focused on supporting their juniors students in preparing for college. In addition, middle school, high school, and college partners coordinate summer programs that focus on academic enrichment, STEM or transition.
The 6-16 Aspirations to Completion to Career continuum includes specific projects 6-16 Regional Teams may implement to support students and families. The projects in the pipeline are not necessarily sequential and may begin as early as grade 6 and continue through the first year of college.
6-16 Regional Teams
(as of 08/01/22)
Kaimukī-McKinley Team
Kaimukī High School

Jarrett Middle School

Washington Middle School

McKinley High School

Ke'elikolani Middle School

Kapi'olani Community College
Waipahu Team
Waipahu High School

Waipahu Intermediate School

Leeward Community College Pearl City
Wai'anae-Nānākuli Team



Wai'anae High School
Wai'anae Intermediate School
Nānākuli High & Intermediate School
Leeward Community College Wai'anae Moku
Farrington Team
Farrington High School
Dole Middle School
Kalākaua Middle School
Honolulu Community College
Leilehua Team
Leilehua High School
Wahiawā Middle School
Leeward Community College Pearl City
Windward (Soar Higher) Team
Kahuku High & Intermediate School*
Castle High School *
King Intermediate School
Kalāheo High School *
Kailua Intermediate School *
Kailua High School*
Waimānalo Elementary & Intermediate School
Olomana School
Windward Community College
* Not a 2022-23 GEAR UP School
Ka'ū-Kea'au-Pahoa Team
Ka'ū High & Pāhala Elementary School
Kea'au High School
Kea'au Middle School
Pahoa High & Intermediate School
Hawai'i Community College Hilo
Hilo Team
Hilo High School
Hilo Intermediate School
Kalaniana'ole Elementary & Intermediate School
Hawai'i Community College Hilo
Honoka'a-Kohala-Kealekehe-Konawaena Team
Honoka'a High & Intermediate School
Pa'auilo Elementary & Intermediate School
Kohala High School
Kohala Middle School
Kealakehe High School
Kealakehe Intermediate School
Waikōloa Elementary & Intermediate School
Konawaena High School
Konawaena Middle School
Ke Kula 'O 'Ehunuikaimalino
Hawai'i Community College Kō Education Center
Hawai'i Community College Pālamanui
Waimea Team
Waimea High School
Waimea Canyon Middle School
Kaua'i Community College
Molokaʻi Team
Molokaʻi High School
Molokaʻi Middle School
UH Maui College Molokaʻi